Future will be dangerous without 'change': Pervez Musharraf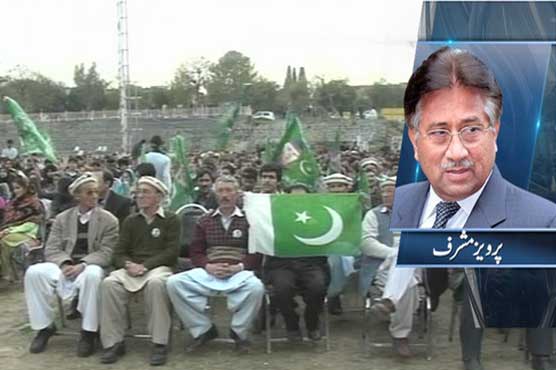 Pakistan is going through a difficult and dangerous phase, says that former president of the country
ISLAMABAD: (Dunya News) – Former President of Pakistan General (r) Pervez Musharraf on Saturday has said that change in the system is a must if we want to avoid a dangerous future. He said that corruption has become rampant in the society and Pakistan is going through a difficult and dangerous phase. He said that only some 'third political force' can rescue Pakistan from these threats.
In a telephonic address to public meetings in Chitral and Gilgit Baltistan (GB), Pervez Musharraf said that the people of Chitral and GB will start the establishment of a strong third political force in the country by voting for his party All Pakistan Muslim League (APML). He said that Pakistan was facing dearth of political leadership.
Musharraf said that he had come to Pakistan to take part in 2013 election but cases were made against him to keep him out of the electoral process. He said that he feared a dangerous future if a positive change failed to realize.
Former president urged the public to reject those who make false promises. "These people were tried again and again but they failed every time", he said.
Urging the people of GB to vote for his party, former military ruler said that only APML would bring real change in Pakistan. He said that it was the duty of all the institutions and the people of Pakistan to rescue the country from the wrong people. He said that change can only be expected after voting for the right people.