Published On 11 Dec 2014 01:49 PM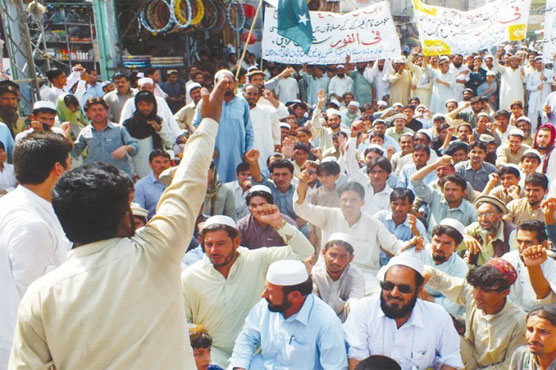 JI leader Ikhtiyar warned government of a huge protest in case of not accepting the demands.
KHYBER AGENCY (Dunya News) – Internally Displaced Persons (IDPS) on Thursday staged a protest in support of their demands at Pishtakhara ring road, Khyber Agency, Dunya News reported.

As per details, IDPs demonstrated by blocking the roads and chanted the slogans against the performance of the government.

The protest was taken out under the supervision of Chairman Jamaat-e-Islami (JI) Bara, Ikhtiyar.

While talking to media, Chairman JI Bara said that people are facing difficulties due to the ongoing operation in Khyber Agency and that the government should call off further injustice in the region.

IDPs of Malakand and Waziristan should get Rs 50,000 per family whereas Rs 12,000 should be fixed as a monthly allowance, he added.

Demanding the basic facilities, he stated that all the matryrs should get some package and demolished houses should be renovated.

Moreover, he warned the government of a huge protest infront of governor house Peshawar and Parliament in case of not accepting the demands.