PTI should unlock its handcuffs to initiate talks: Pervaiz Rashid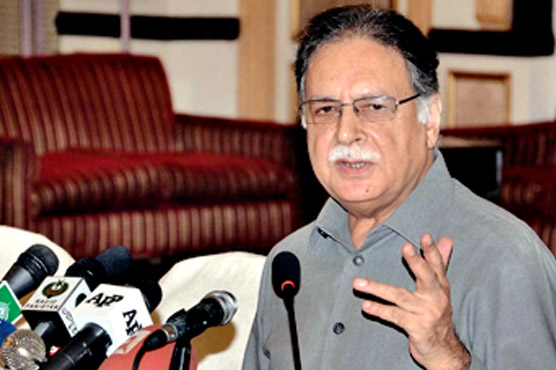 All the terrorists will be dealt like the militants of North Waziristan, he said.
LAHORE (Dunya News) – Federal Minister for Information and Broadcasting Pervaiz Rashid on Sunday said that politics of sit-ins will be responsible for delay in eradicating energy crisis from the country.
Addressing the Iqbal Conference at Aiwan-e-Iqbal Lahore, Information Minister stated that Prime Minister (PM) Nawaz Sharif is doing politics for country while other parties are carrying out politics of personal interests.
Pervaiz Rashid claimed that Chairman Pakistan Tehreek-e-Insaf (PTI) Imran Khan has stopped his party leaders from negotiating with government and he urged PTI to unlock their handcuffs to resolve issues through dialogue. He added that the victims of Model Town vandalism are not cooperating with the government and only speeches are being made.
While talking to media, Pakistan Muslim League - Nawaz (PML-N) senator said that persistent work for the selection of Chief Election Commissioner (CEC) is underway as everyone is feeling hesitation in assuming the office of CEC.
Rashid vowed to stand with the victims of Kot Radha Kishan incident and promised that those responsible for it will be brought to court.
Responding to a question regarding ISIS, Pervaiz Rashid said that there is no strong existence of ISIS in the country howerver, some groups are using their names and will be dealt like the militants of North Waziristan are being dealth with.