Last Updated On 07 October,2014 About 7 years ago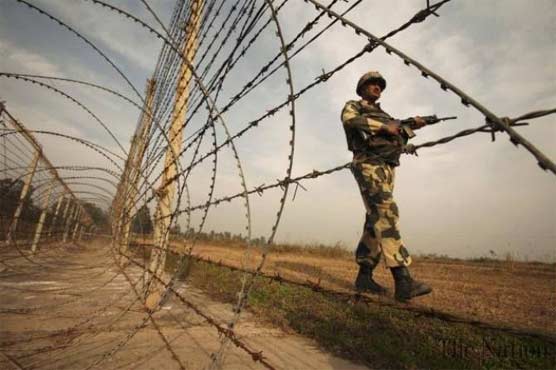 This was the sixth violation, occurring on daily basis since 1st October.
SIALKOT (Web Desk) - Indian forces have continued violation of Line of Control (LoC) ceasefire agreement, targeting Pakistani positions in Harpal sector of Sialkot on Tuesday morning, Dunya News reported.
Earlier on Monday, five civilians lost their lives in unprovoked Indian firing at Charwah sector of Sialkot.
The deceased were identified as 70-year-old woman and her two grandchildren including 7-year-old Adeel and 3-year-old Hamad. The victims belonged to Dharmala village.
On the other hand, two civilians were killed while three people including two women were injured in Bhagiyari and Tulsipur villages.
In two days, Indian forces targeted Pakistani positions in Bajwat, Chaprar, Bajrogari, Nakial, Karela, Kot Katera, Hot Spring, Jandrob, Akhnur, Dawar, and Gulmerg.
Chenab Rangers strongly retaliated and gave befitting reply to Indian firing.
PAKISTAN CONDEMNS INDIAN FIRING
The Ministry of Foreign Affairs has lodged strong protest with the Government of India through diplomatic channels and called for restraining its forces from constant violation of the ceasefire.
"The Indian violation, in complete disregard of the sacred occasion of Eid Ul Azha, caused Shahadat of 4 innocent citizens and injuries to 3 others. 2 children and a woman in village Dharmala and one 60 years old man in Tulsipur were among the casualties while 2 civilians in Dharmala and a child in village Harpal were injured," the Foreign Office stated.
The Foreign Office further said that it is deeply saddening that Indian security forces' act of aggression deprived a number of families from celebrating the auspicious Eid.
The LoC is a de-facto border that divides Kashmir into India and Pakistan controlled parts. The armies and border guards of India and Pakistan intermittently trade fire, despite an agreement to observe a cease-fire.
New Delhi and Islamabad in 2003 agreed to observe cease-fire along the international border and the LoC in Kashmir. Though some violations have been reported on both sides, the cease-fire remains in effect.