32 militants killed as PAF jets pound hideouts in North Waziristan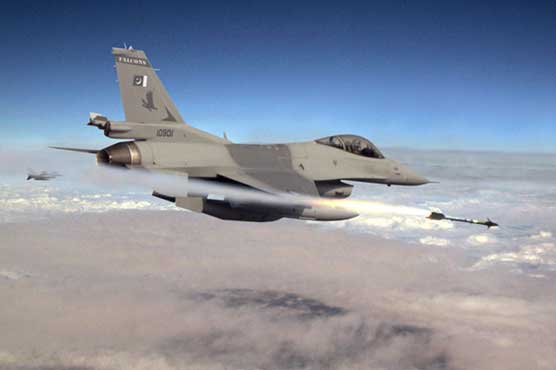 Airstrikes took place in several areas including Miranshah, Mir Ali and Boya towns.
NORTH WAZIRISTAN (Web Desk) – At least thirty two terrorists including key militant commanders were killed and several others were injured when Pakistan Air Force (PAF) jets bombed their hideouts in North Waziristan on Wednesday, Dunya News reported.
Army jets launched airstrikes in several areas including Miranshah, Mir Ali and Boya towns of North Waziristan
According to military sources, a number of hideouts of suspected militants were targeted and destroyed in the air strikes carried out by army jets and helicopters.
All entry and exit roads to the targeted areas were closed following the operation and the political administration imposed curfew in the area.
The decision to carry out airstrikes was taken during Tuesday's high-level meeting chaired by Prime Minister Nawaz Sharif in Islamabad. The meeting was attended by Army Chief General Raheel Sharif and DG ISI Lt General Zaheerul Islam.
According to sources, targeted terrorists were involved in recent attacks including Internally Displaced Persons (IDPs) camp blast in Peshawar, Mohmand and Bajaur Agencies which killed innocent civilians and security forces personnel.
These militants were also involved IED (improvised explosive device) attacks on security forces convoys in North Waziristan.