DIG among 30 killed in Quetta blast
Last Updated On 08 August,2013 About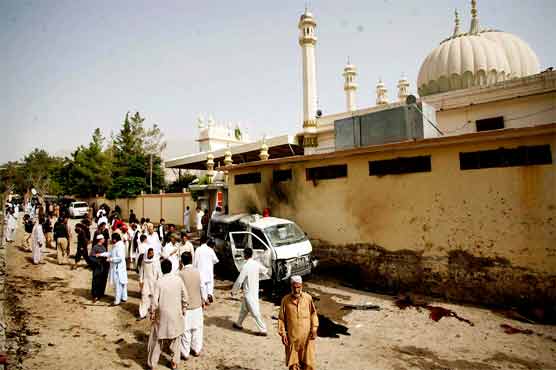 30 people including 21 police were killed in suicide attack during funeral of SHO City Mohibullah.

QUETTA (Dunya News) - DIG Operations, a DSP and 30 other people were killed, while 24 others were injured in a suicide blast at Police Lines, Quetta, on Thursday.
IG Balochistan Mushtaq Sukhera confirmed that 30 people including DIG Fayyaz Sumbol and 21 policemen were killed in the Quetta suicide attack.
The blast took place just before the funeral prayers of SHO City Mohib Ullah commenced at the Police Lines mosque.
Around 300 to 400 people, including DIG Operations Fayyaz Sumbol, IG Balochistan and CCPO, were attending the funeral.
DIG Operations died on the spot while IG Balochistan and CCPO survived the attack. Five offials of anti-terroist force were also killed in the blast.
The police immediately cordoned off the area and rescue operation was started. Injured were shifted to the hospital.
Earlier in the day, an SHO City Mohib Ullah was killed, while his four children and driver sustained injuries, during a firing incident in Alamu Chowk, Quetta.
Police say a suicide bomber attacked the funeral procession in which 30 people, including a senior police officers, were killed.
According to reports DSP Shams-ur-Rehman was among the killed in the blast.

Police chief Mir Zubair Mehmood says the attack happened at a funeral Thursday in Quetta,
A police offical said the bomber detonated his explosives just before the funeral service was about to start.

One of the dead was DIF Operations in Balochistan, Fayaz Sumbal.
No one has claimed responsibility for the attack.

---
---
Advertisement