Leaders hail nation for successful talks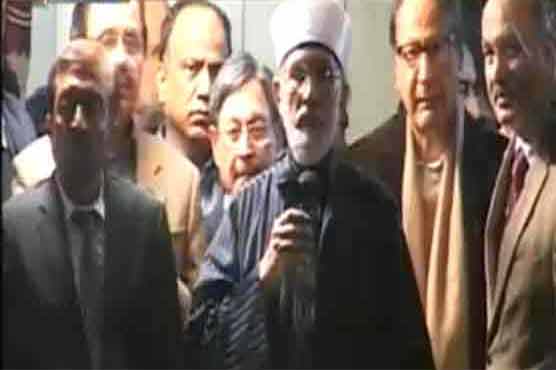 TMQ chief Dr Tahirul Qadri says the entire nation deserve congratulation for success of dialogue.

While sharing the agreement signed between TMQ and the government delegation headed by Ch Shujaat Hussain, Dr Qadri said that he was thankful to the Almighty Allah who bestowed his blessings on the protestors who raised their voice for true democracy and rule of law in the country.

He paid tribute to the female party workers who sacrificed in the face of hard weather.

He said that coalition partners are also worthy of congratulation who settled the issues with their wisdom and farsightedness particularly Chaudhry Shujaat and PPP leader Ameen Fahim and law minister Farroq H Naek who contributed their sincere services.
PML-Q chief Ch Shujaat, PPP leader Amin Fahim and other leaders also paid tribute to the nation over end of deadlock.

MQM leader Farooq Sattar said in his address that he was thankful to God for steadfastness and wisdom of the coalition partners who settled the issue while showing their sense of responsibility.

ANP leader Afrasiab Khattak said that his party in consultation with other parties would continue to render services for consolidation of democracy and rule of law in the country so that it may be turned into a peaceful land.

Minister for information Qamar Zaman Kaira also paid tribute to the all stakeholders who contributed in successful negotiation for normalcy.

He said, "Nobody has lost anything in dialogue; rather it is victory of the democracy; it is victory of the entire nation; it is victory of rule of law".

He said that Dr Qadri deserves special congratulation for peaceful rally in which millions of people participated and remained calm and cool during demonstration.

PPP leader Syed Khurshid Shah said that Qadri is great leader and asset of the nation. He is man of ideas and actions and has ability to lead majority of people for great cause.

PML-Q Secetary General Syed Mushahid Hussain also expressed his views and said that the nation would continue its journey with teachings of Allama Iqbal and Quaid-i-Azam.

Later Dr Qadri shared the text of the agreement and said that this agreement has been named after Long March Agreement 2013.

In the end, Dr Qadri thenked media persons who made the nation aware of current situation particularly the TMQ rally which sincerely raised voice for rule of law and uplift of democracy.