Zardari says no use of force against protesters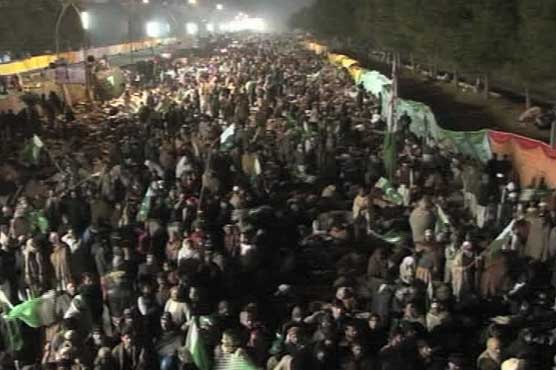 President Zardari has said that there would be no operation against the participants of long march.
President Wednesday intervened to stop authorities from using force against protesters who are calling for parliament to be dissolved in Islamabad s largest political rally in years.
In a telephonic conversation with PML-Q chief Chaudhry Shujaat Hussain, he said that the matter should be addressed through talks as women and children were also among the participants.
Interior Minister Rehman Malik had warned of a "targeted operation" to disperse an estimated 25,000 demonstrators if they did not go peacefully by Thursday.
"For the safety of the women and children in the protest I request you to leave by tomorrow," Malik told a press conference late on Wednesday, as the rally led by Dr Tahir-ul Qadri continued for a fourth day.
After the conference, a government statement quoted President Asif Ali Zardari as saying: "There would be no operation against the participants of long march, holding sit-in in the federal capital."
It said Zardari took notice of Malik s statement and directed that "there would be no operation against the marchers and expressed the hope that Dr Tahirul Qadri and his followers would remain peaceful".
Earlier Malik said he was compelled to take action because innocent women and children would be killed because intelligence agencies had reported that suicide bombers may strike Qadri and other protesters.
"There are four credible threats of suicide bombing on Qadri and other protesters and we take it very seriously," Malik said.
"People are falling sick due to cold, rains are about to start and terrorists can strike anytime.
"He should leave tonight."
Malik said that a "targeted action" to disperse the protesters could start between any time tonight (Wednesday) or tomorrow night.
"Yes a targeted action is on the cards and it can happen any time because I have to save people from terrorist attacks," said the minister.