Last Updated On 11 April,2016 07:07 am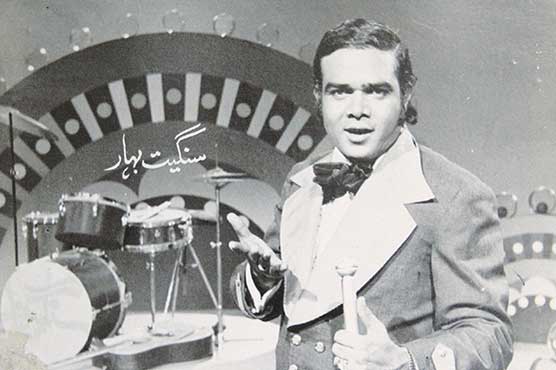 Blessed with an extremely versatile voice, Rushdie was capable of singing songs of any emotion.
LAHORE (Dunya News) – A voice that will never be forgotten, a voice that will live on in the hearts of many for decades to come and a voice without which Pakistani cinema's history will remain incomplete. Such was the vocal prowess of the renowned legendary singer Ahmed Rushdi. It has been 33 years since he departed from this world, but his melodious songs continue to treat many, as they shall forever. Let us remember the gifted singer on his 33rd death anniversary.
Born on April 24th 1934 in Hyderabad Dakan, Rushdi, from a very young age, brimmed with a passion for singing. Talented as he was, he initiated his career with Radio Pakistan Karachi in 1954. Very few people know that Rushdi's name was amongst the ten singers who sang the country's national anthem for the very first time in 1955.
Rushdi seemed almost a magician in the way he mastered the notes of music. Blessed with an extremely versatile voice, Rushdi was capable of singing songs of any emotion, be it an elated one or sad.
Rushdi's voice was truly one in a million, melodious with a definite control, capable f leaving you in an absolute trance, which was one of the reasons why those who loved him, ranged from young to the elderly.
Rushdi's first song Bundur road say Kemari' was not only the break he needed, but melodious track sky rocketed him to the heights of fame, even landing him into the movies.
Rushdi's distinctive vocals in the world of playback singing are still acknowledged today. His songs "Chand Sa Mukhra" and "Gol Gappay Wala Aya" are forever etched into the hearts of his fans and made him a class of his own.
The legendary singer sang 150 songs for the late Pakistani superstar Waheed Murad which, to this day, are extremely popular with the people.
Rushdi gave voice to the highly illustrious poet Habib Jalib's poem "Mien Nahin Manta", which not only gave it the voice that those verses needed, but also the soul.
The shining star of Pakistan's music industry finally burned out on 11th April 1983. Rushdi was bestowed with the prestigious 'Sitara-e-Imtiaz' by the government after his passing.
Rushdi physically may be gone, but his voice and his soul will live on in the hearts of a nation that will always have the privilege of listening to the voice of one of the greatest of the greats.