Last Updated On 02 March,2017 06:25 pm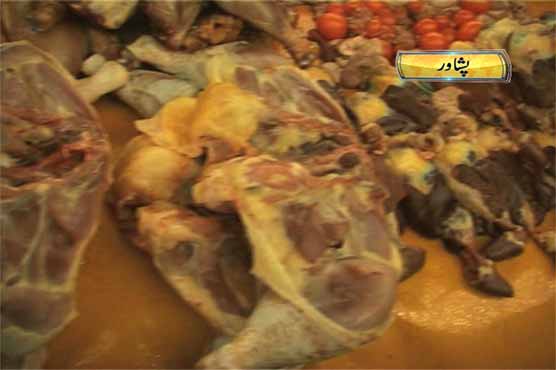 Dead chicken being openly sold in Peshawar, citizens buying considering it cheaper
PESHAWAR: (Dunya News) – Provincial and local governments have tried every possible method in the capital of Khyber Pakhtunkhwa (KP), including Section-144, but nothing has deterred the sale of dead chicken in Peshawar, reported Dunya News.
The biggest center for the sale of such chicken is Bacha Khan Chowk where parts of the chicken are being sold openly at stalls and shops. Citizens are also buying the chicken like hot cakes because all the parts including leg-pieces and breast-pieces are being sold at Rs 60 per kilogram.
The district administration had banned the sale twice under Section-144 six months ago in Peshawar and the ban had actually worked for a few days but the officials went back to snooze afterwards.
Apart from Bacha Khan Chowk, dead chicken is also being sold at Ghanta Ghar, Firdous Chowk and Hashtnagri without any fear of being caught.