Bangladesh braces for Islamist chief war crimes verdict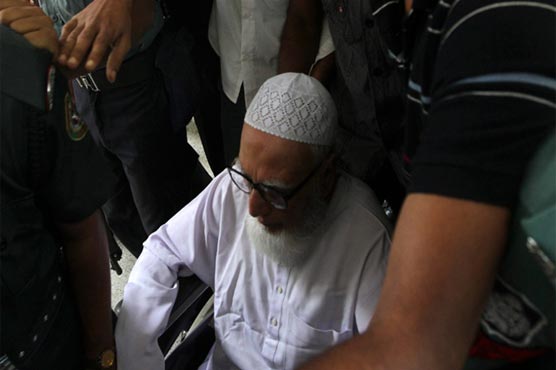 More than 500 people died in the unrest and subsequent political violence.
DHAKA, Oct 29, 2014 (AFP) - Security was tightened across Bangladesh Wednesday ahead of the long-awaited verdict in the war crimes trial of the leader of the largest Islamist party, amid fears that it will spark a new round of bloodshed.
Motiur Rahman Nizami, 71, could face the death penalty if a special tribunal finds him guilty of 16 charges, including genocide, allegedly carried out during the 1971 independence war against Pakistan.
Similar judgments against several of his senior lieutenants in the Jamaat-e-Islami party plunged Bangladesh into one of its worst crises last year as tens of thousands of supporters fought with police.
More than 500 people died in the unrest and subsequent political violence ahead of disputed polls in January.
Junior home minister Asaduzzaman Khan said "all sorts of security measures have been taken across the country" amid fears that a death sentence could unleash a new bout of bloodletting.
While it was effectively banned from taking part in this year s legislative elections, Jamaat has millions of activists who have staged shows of strength on the streets of Dhaka and other major cities in the aftermath of the previous verdicts.
"We won t tolerate any attempt to create instability or chaos," Khan told reporters on Tuesday.
Extra police and border guards have been deployed in the capital and in other major cities, security officials said.
Nizami arrived at the court in Dhaka early Wednesday flanked by heavy security, while hundreds of officers surrounded the complex.
Dozens of former "freedom fighters", who battled in 1971 for independence against Pakistani troops, also gathered outside the court, demanding Nizami s execution.
The verdict, originally scheduled for June, was postponed at the 11th hour because Nizami was suffering from high blood pressure.
"We are finally going to get the long-awaited verdict," prosecutor Tureen Afroz told AFP. "We hope he will be sentenced to death for his crimes during the war."
As the leader of now defunct Islami Chhatra Sangha (ICS), prosecutors say that Nizami turned the then student wing of Jamaat into a pro-Pakistani militia which killed professors, writers, doctors and journalists.
The aim was to make the fledgling nation an "intellectual cripple", prosecutor Mohammad Ali said.
"When it was clear Pakistan was losing the war, as the chief commander of Al Badr he ordered a hit list based on which top intellectuals were abducted and killed," he said.
Prosecutors say Nizami, as leader of Al Badr, either personally carried out or ordered the deaths of nearly 600 Bangladeshis.
Nizami is already on death row after being sentenced to hang in January for trafficking weapons and trying to ship them to a rebel group in northeast India.
Defence lawyers say Nizami, Jamaat s leader since 2000, was prosecuted for war crimes as part of a government witch-hunt against its opponents.
"He was a leader of the ICS but he never headed Al-Badr," his son and lawyer Nazib Momen told AFP, adding his name was not in the list of war criminals prepared by the post-independence government.
Since it was established by Prime Minister Sheikh Hasina s government in 2010, the self-styled International Crimes Tribunal has sentenced around a dozen opposition leaders for war crimes.
Rights groups have criticised the trials, saying they fall short of international standards and lack any international oversight.
The country s secular government maintains the trials are needed to heal the wounds of the conflict that it says killed three million people.
Independent researchers estimate that between 300,000 and 500,000 people died.