Belgium hunts gunman as Jewish community on high alert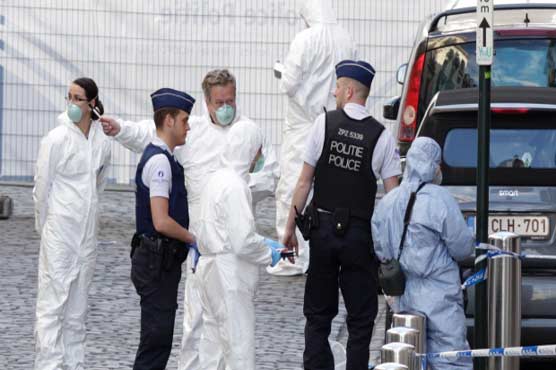 An Israeli tourist couple and a French woman died from gunshots to the face and neck on Saturday.
BRUSSELS (AFP) - Belgium s Jewish community was placed on high alert Sunday as police hunted down a gunman who shot dead three people at the Brussels Jewish Museum in an attack blamed on growing anti-Semitism.
An Israeli tourist couple and a French woman died from gunshots to the face and neck after a man apparently acting alone fired two successive rounds into the museum on Saturday afternoon before escaping minutes later on foot.
A fourth victim, a Belgian who did volunteer work for the museum, was critically injured and is fighting for his life.
The first such attack in more than 30 years in Belgium has revived fears of a return of violent anti-Semitism to Europe, with Israeli premier Benjamin Netanyahu notably lashing out at Europe s "hypocrisy" in its attitude to the Jewish state.
Appealing to the public to help police identify the gunman in a national manhunt, deputy public prosecutor Ine Van Wymersch said he "probably" acted alone and was "well prepared and well armed."
A picture of the suspect is to be released to the public shortly, Van Wymersch said.
She added that as there was no claim "I cannot confirm that it is a terrorist or anti-Semitic act" but "all leads remain open."
French President Francois Hollande, who along with Netanyahu had a phone conversation with the Belgian premier, said he had no doubt about the "anti-Semitic character" of the attack.
Netanyahu, welcoming Pope Francis in the Holy Land, hailed the pontiff for his "determined stance against anti-Semitism, especially in light of the growing hatred of Jews that we are witness to in these days."
The attack in the busy heart of Brussels, minutes away from a packed streetside jazz festival, came as the country headed into a crucial general election held alongside a vote for the European parliament.
"An election day is usually a celebration of democracy. Today it is clouded," said Belgium s Prime Minister Elio Di Rupo. "It is on everyone s mind." "In Belgium we are not accustomed to such acts of barbarity."
Some 40,000 Jews live in Belgium, roughly half in Brussels and the remainder in the port city of Antwerp.
- Synagogues under guard 24/7 -
Condemning the "terrible act" in the city which hosts EU and NATO headquarters, European Commission president said: "This was an attack at European values which we cannot tolerate."
Flowers and candles were laid out in front of the museum on Sunday as mourners trickled by to pay respects.
"It would be terribly dangerous to see a new surge of anti-Semitism, be it from the far right or from Muslim extremists," said 66-year-old Colette Gradom who trembled with emotion as she laid a bunch of flowers at the scene.
"We feel that these actions are the outcome of a long period of hate speech against the Jews," said Rabbi Avi Tawil, who heads the European Jewish Community Centre.
The head of the European Jewish Congress, Moshe Kantor, met premier Di Rupo on Sunday after talks with community leaders and Home Affairs Minister Joelle Milquet.
The government was beefing up protection with 24/7 police protection at schools, synagogues and cultural centres in line with a decision to place Jewish institutions under maximum security, Milquet said.
"These measures will remain in place for now," a government statement said.
There was no security at the museum leading up to the attack and Jewish community leaders said there had been no threats.
The attack came on the eve of Sunday s elections in Belgium for a new federal government as well as for its regional parliaments and the European Parliament.
Police late Saturday detained and interrogated a person who was thought to have driven the gunman to the scene in an Audi.
He admitted having been at the scene at the time of the attack but denied involvement. Deputy public prosecutor Van Wymersch said Sunday that the person had been released.
- Pools of blood -
Van Wymersch had said late Saturday that police believed two men were involved -- one who drove away from the scene in a car and was in police custody and one who escaped on foot and who had not yet been identified.
Detectives were examining video footage.
The two Israeli victims were a couple from Tel Aviv in their 50s, while the Belgians shot were an employee working at the museum s reception and a young volunteer.
"The woman had blood on her head. She was still holding a leaflet in her hand, she looked like a tourist," bystander Alain Robotik told AFP.
Belgian Foreign Minister Didier Reynders saw the two corpses at the entrance and said the two other victims had been shot further inside the museum.
He said he had been strolling nearby when he saw people fleeing and heard shots and rushed to help.
When he saw "bodies on the ground in pools of blood" he called the 112 emergency number and rounded up eyewitnesses.
The Jewish Museum of Belgium is in the heart of the Sablon district which is home to top antique dealers. The area is a popular weekend haunt for shoppers and tourists.
In 1982 a gunman opened fire at the entrance of the synagogue in Brussels, wounding four people, two seriously.
Saturday s attack took place two years after the killing of four Jews, including three children, in the French city of Toulouse.