Last Updated On 09 June,2018 10:56 pm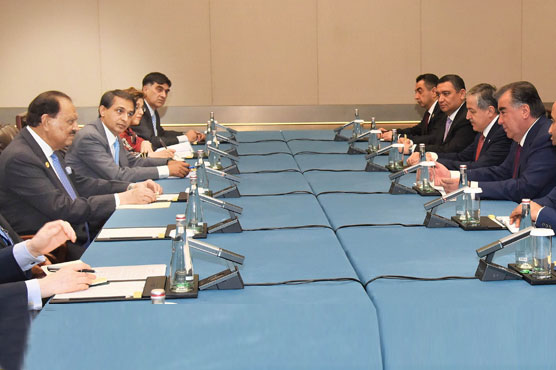 Tajik President expressed his desire to further strengthen brotherly relations
QINGDAO (APP) – Pakistan and Tajikistan Saturday agreed to make joint efforts to substantially increase the bilateral trade, noting that there existed huge economic potential to exploit.
The agreement was made in a bilateral meeting between President Mamnoon Hussain and his counterpart from Tajikistan Emomali Rahmon.
The leaders from both the countries met in Qingdao International Conference Centre on the sidelines of 18th Meeting of the Council of Heads of State of Shanghai Cooperation Organization being held here in the international port city of Shandong province from June 9-10.
Both the leaders shook hands in front of the national flags of the two countries, before they held the meeting to discuss wide array of matters of mutual cooperation.
On his arrival at the venue, President Mamnoon was received by Tajik President.
During the meeting, the president was accompanied by Secretary Foreign Affairs Tehmina Janjua, Ambassador of Pakistan in China Masood Khalid and senior officials of the Ministry of Foreign Affairs.
Both the leaders who arrived here to attend the SCO Summit also agreed to deepen the bilateral relations.
They held in-depth consultations on matters of mutual interest.
They reviewed progress in bilateral relations, expressed satisfaction on close fraternal relations and reaffirmed their commitment to further strengthening ties between the two brotherly nations.
The two leaders also examined the prospects of cooperation in areas of trade and economy, investment, culture, education, science and technology, defense and people-to-people contacts.
Referring to Pakistan's energy requirements, President Mamnoon stressed early completion of CASA-1000 and expressed Pakistan's interest in promoting connectivity with Central Asia through Tajikistan.
The president mentioned that Pakistan looked forward to participating in the 17th meeting of Council of Heads of Government of SCO member states which will be held in Dushanbe, Tajikistan in October 2018.
Tajik President expressed his desire to further strengthen brotherly relations to enhance economy, prosperity and well-being of the two nations.
The two leaders also discussed regional situation and reiterated their commitment for regional peace and stability.